Our Sources
Fruit and Vegetables
We source our produce from local farmers who practice sustainable growing methods. We believe in Stephen Violette, who owns and operates Dick's Market Garden. Stephen personifies what we look for in a farmer: he cares deeply about sustainable practices and high-quality produce.
MEAT AND SEAFOOD
We source our meat from farmer-owned cooperatives in the New England area, and our fish from local fish markets. We only buy sustainable fish, and whenever possible we buy local fish. Our featured meat purveyor, Misty Knoll Farms, is a family-owned and operated farm producing the finest naturally-raised free-range turkeys and chickens available from Vermont. Misty Knoll's farmers feed their birds whole grain, free of antibiotics and animal by-products. The chickens range free in spacious, specially designed enclosures.
Our Mission
We believe the best food is grown locally and with respect for the environment, so we source from farmers we know. In fact, we buy most of our produce, fish, and meat from the same farmers you see at markets around Boston.
When we design menus, we start with the best of what's in season: summer corn and tomatoes, the first of spring's peas, or the sweetest winter carrots. Using these elements, we work with our clients to design individual menus around their tastes.
Know Your Farmers
We've spent the past eight years building strong relationships with local farmers, fishermen, and foragers, who bring us the best ingredients. We've also built a dedicated team of cooks, managers, and waitstaff who are passionate about local food and great service. This way, we know that our food is grown, prepared, and served with care.
Long Island Duck Duet
Five-Spice Breast with Dried Apricot-Sage Shrub & Confit Leg or Thigh with Apricot Chutney
Long Island Duck Duet
Five-Spice Breast with Dried Apricot-Sage Shrub • Confit Leg or Thigh with Apricot Chutney
Northeast Family Farms Lamb Trios
Za'atar-Crusted Rack of Lamb with Mint–Pecan Pesto • Pomegranate-Braised Lamb Shoulder • Syrian-Spiced Sausage with Feta and Walla Walla Onions
Northeast Family Lamb Trios
Garlic and Rosemary Roasted Leg of Lamb • Red Wine- and Tomato-Braised Lamb Shoulder • Classic Ground Lamb and Eggplant Moussaka
Heritage Breed Pork Trios
Buttermilk-Brined Pork Loin with Herb Pistou Balsamic • Braised Pork Belly • Fennel Sausage
Roasted Golden Beets with Goat Cheese, Hearty Greens, Green Goddess Dressing, and Crushed Pistachios
Speck-Wrapped Pheasant Breast with Marsala Demi-Glace Crispy Leg and Thigh Rillettes with Dried Fruit Mostarda
Plated Dinner, Left to Right
Sausage Stuffed Quail with Maple Reduction Sauce • Juniper-Rubbed Venison Loin with Port Reduction • Roasted Golden Beets with Goat Cheese, Hearty Greens, Green Goddess Dressing and Crushed Pistachios
Tortilla Espanola with Chive Creme Fraiche (L) and Free-Form Summer Lasagna with Sweet Corn, Roasted Zucchini, and Basil Pesto Ricotta (R)
Grilled-then-Sliced Sirloin Steak with Red Onion Jam Saisson-Braised Chuck with Citrus Persillade
Crispy Heirloom Bean and Spinach Cakes topped with Orange-Infused Roasted Beet Relish and Dill Yogurt
Crispy-Skin Striped Bass topped with a Leek, Wellfleet Clam, Vermouth, and Wild Mushroom Sauce
Creamy Chickpea Cake with Walnut Muhammara, Grilled Eggplant, and Fresh Herbs
Asian-Style Suckling Pig in Cast Iron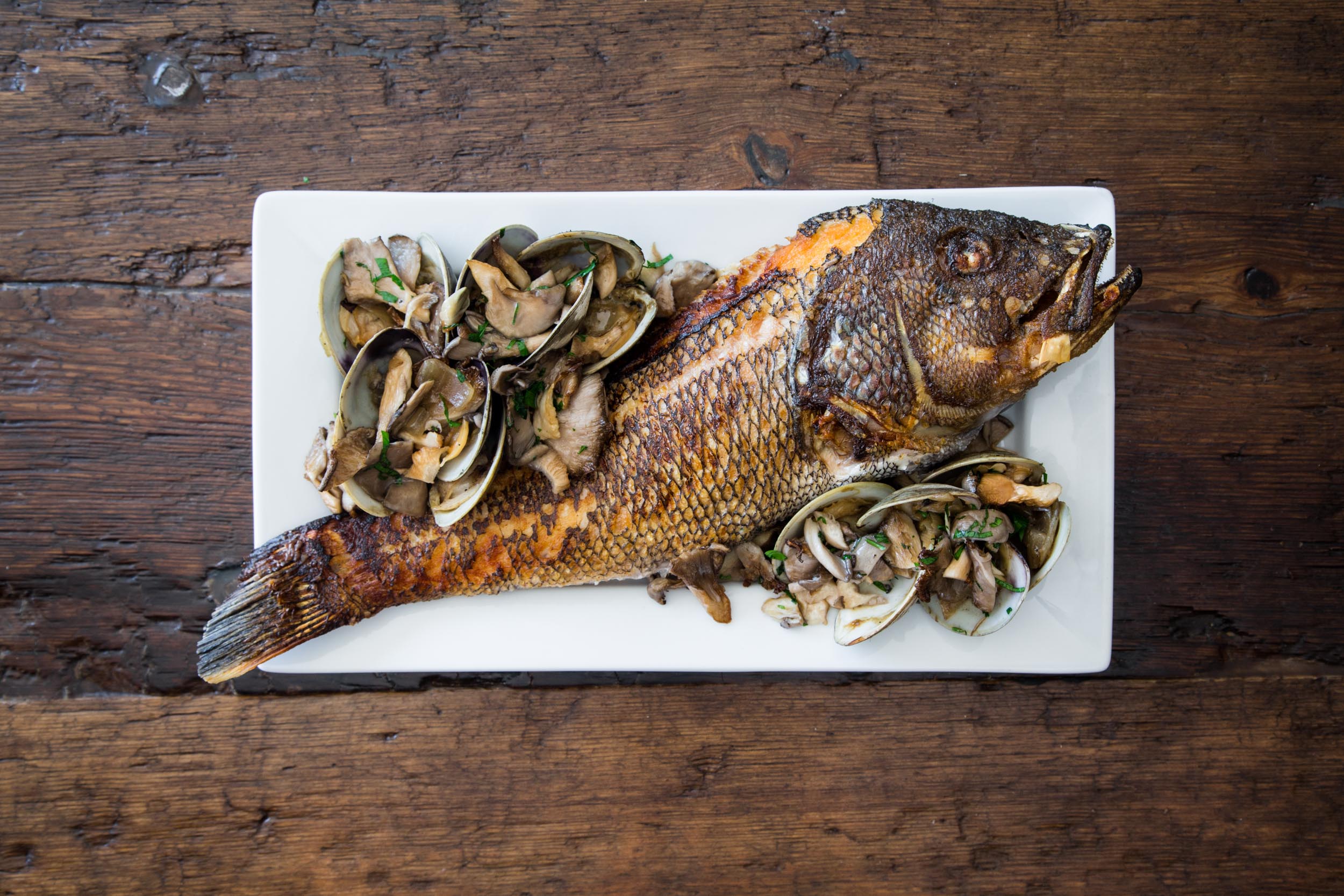 Crispy-Skin Striped Bass topped with a Leek, Wellfleet Clam, Vermouth, and Wild Mushroom Sauce
Buffet Dinner
Grilled-then-Sliced Sirloin Steak with Red Onion Jam and Chile-Rubbed Flank Steak with Chimichurri Sauce • Old School Barbecued Chicken with Memphis BBQ Sauce • Roasted Seasonal Vegetables • Dueling Potatoes: Maple-Glazed Grilled Sweet Potatoes and Peruvian Purple Mashed Potatoes
Chicken Two Ways
Classic Jamaican Jerked Chicken • Old School Barbecued Chicken with Memphis BBQ Sauce
Chilled Fried Chicken with Spicy Pepper Jelly
Feta, Black Olive, and Marjoram in Watermelon Cup
Braised Octopus Skewer with Maine Potatoes, Chorizo, and Lemon Aïoli
Wild-Foraged Mushroom-Stuffed Red Bliss Potato with Chive Crème Fraîche
Lobster Salad in a Cucumber Shot Glass with Frisée
Gougère stuffed with Parsnip Custard, Morel Mushrooms, and Pea Tendrils
Mirin-Marinated Portobello Nigiri with Miso Eggplant and Sriracha Aïoli
Sesame-Seared Scallop with Blueberry Gastrique and Edible Flowers
Grass-Fed Beef Slider with Cabot Cheddar, Arugula, and Special Sauce on Potato Bun
Slow-Roasted Chicken with Balsamic Caramel Sauce and Heart of Celery on Potato Gaufrette
Spinach-Stuffed Crispy Phyllo topped with Feta, Radish, and Mint
Selection of Appetizers
Belgian Endive Spear with Raspberry Mostarda, Goat Cheese, and Chervil • Slow-Roasted Chicken with Balsamic Caramel Sauce and Heart of Celery on Potato Gaufrette • Mirin-Marinated Portobello Nigiri with Miso Eggplant and Sriracha Aïoli • Sesame-Seared Scallop with Blueberry Gastrique and Edible Flowers • Grass-Fed Beef Slider with Cabot Cheddar, Arugula, and Special Sauce on Potato Bun • Fresh Vietnamese Spring Roll with Peanut Sauce and Crunchy Peanuts
Beef Carpaccio on Sourdough Toast with Horseradish Crema and Micro Greens
Crispy Crab Cake with Cucumber Batons and Remoulade
Artisinal Charcuterie Board
Appetizer Selection, Left to Right
Belgian Endive Spear with Raspberry Mostarda, Goat Cheese and Chervil • Spinach-Stuffed Crispy Phyllo topped with Feta, Radish, and Mint • Braised Lamb and Dandelion Greens Cigar with Feta, Radish, and Spring Onion Relish